Unlocking File Cabinet Plano, TX – Locksmith Store
Do you need someone to get your file cabinets unlocked? Want new cabinet locks installed? In the Plano, TX area, professional locksmiths are always available to serve you at Locksmith Store.
Securing your documents:
Business premises are almost sacred to many. The most crucial information is filed within files, and the most imperative contracts are all put in a safe place. Once they are within the file cabinet, you'd be assured of some amount of security. But with higher safety comes greater complications. Imagine if the cabinets were to get jammed and won't unlock. What would you do? Instead of trying to break the locks, all you have to do is give Locksmith Store a call and avail our unlock file cabinet services. In no time, we would arrive at your place and set things straight!
Locks that we work with:
There is a wide-array of file cabinet locks available in the evolving market. Locksmith Store is an expert in working with all kinds of locks including some of the most sophisticated and even simplistic ones such as the following:
Cam-type Lock: Strikingly similar to tubular cylindrical locks, but can be accessed through a rotating bar.
High-tech Locks : These locks are the 'in' thing, which includes electronic keypad locks and the ones with built-in alarms
Plunger-type Lock : It is rather simplistic to operate, can be opened with a key and closed by pressing the body of the lock.
Keyless combination : They don't require any keys to operate and are also one of the safest options.
The specialty of Locksmith Store lies in the fact that it never fails to respond swiftly. Our technicians are always behind the wheel and are prepped to dispatch to your location within just a few minutes. With a set of cutting-edge tools and machinery, we can perform our file cabinet unlocking services with expertise and efficiency. We also offer a plethora of other services: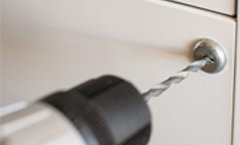 Depository safe upgradation
Installation of file cabinets
Rekeying for cabinets
Cabinet lock repairs and replacement.
And many more!
Do you want your file cabinets to be unlocked? Do you want new keys for your cabinet? Contact Locksmith Store now at 972-512-6385 to experience the best locksmithing services in the Plano, TX area!